Written by Sage Corps Summer 2018 fellow, Harsana Siva.
Why should you select a Sage Corps fellowship in Chicago, the same city as Sage Corps Headquarters!? Because Chicago is the BEST! Harsana, an Architecture major from SUNY University at Buffalo, knows what's up:
Housing
"Sage Corps doesn't provide domestic housing, but I live in a summer intern housing building (University Center), which is more like a dorm for interns. I share my apartment with 3 other interns. There is a restaurant on every street and took me weeks to try all the cuisines they had to offer. Millennium Park is located super close to my apartment, and by default becomes our meetup spot. When I am home, I usually hang out with my roommates/cohort, play pool or table tennis, and sometimes do Zumba too!"
Commuting
"I usually walk to work - but sometimes I can get lazy. There are multiple ways to get to work; I either walk or take a bus, it takes about 15 minutes to walk to work. I get to see a lot of people trying to get to work on time and the Harold Washington Library every day."
"I work at Victor Tech Inc. as a Graphic Designer. The office is located in the WeWork National Building in the Loop. The office space is small but on the bright side, that made our communication more comfortable. We are a team of 8 people. Myself and another intern from Sage Corps both work at Victor Tech. We usually catch up with the other cohort members for lunch.
P.s. We try to go to a new restaurant every day!"
Startup Life
"Victor is Match.com meets Eventbrite meets Linkedin, for the veteran community. Our technology platform more easily connects our users to career opportunities, helping them engage with their community, and provides them with access to health and wellness services. I work as a Graphic Designer, and I had the opportunity to design their website. I also got to work on smaller projects like designing social media posts, infographics and posters."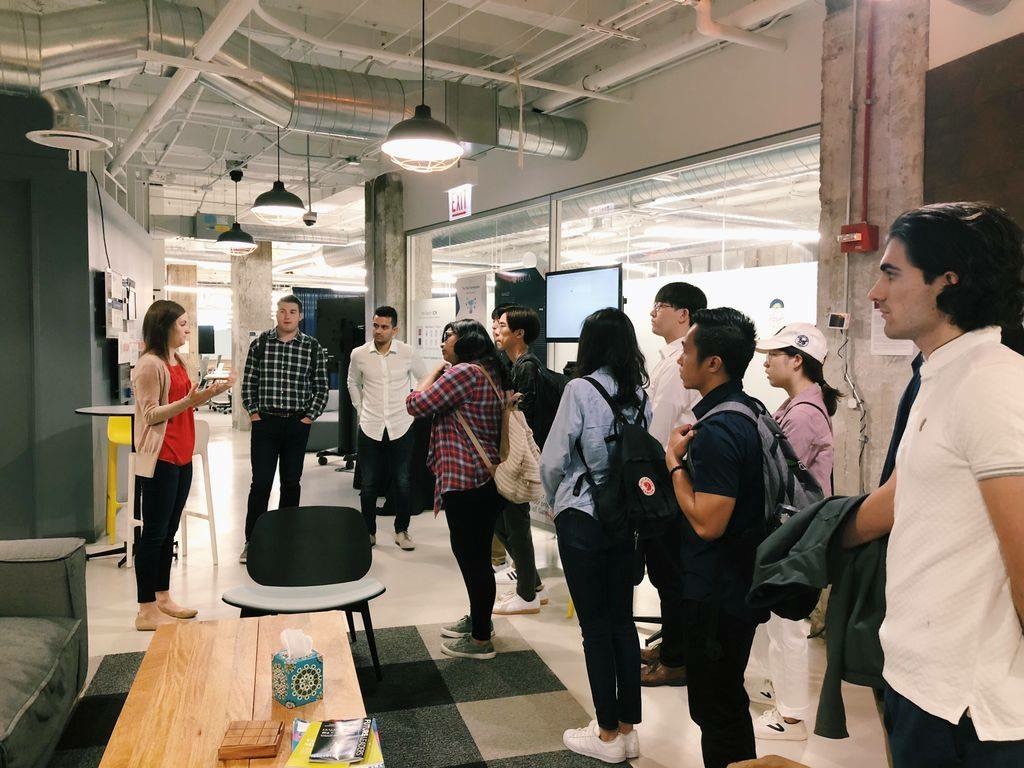 After Work
"I usually go back home after work. At times, we attend weekly events and get a chance to network and sometimes I catch up with the other cohort interns for dinner, followed by something fun."
Weekly Programming
"My favorite event so far was Ignite Chicago. The speakers shared their personal stories, which were truly inspirational and motivating. We also got to network with some great people. Our City Managers are Cara and Sarah (I know their names rhyme, that was the first thing I noticed). They are fun people to hang out with. They're easy to reach and helped us with a lot of networking tips!"
Weekends
"Myself and the other cohort interns often get together and Chicago. We have been to a lot of museums, parks, restaurants and other tourist locations. We have traveled out of downtown to visit a lot of festivals and concerts. I specifically enjoyed our karaoke and game nights!"
What Surprised You Most?
"I was taken by surprise by the kind of work I was asked to do. It was completely out of my comfort zone and, yes, it did make me anxious about the mistakes I could make. But at the same time I got to learn how to do different things. It was a completely new experience for me."
Advice
"Get out of your comfort zone and go explore. There are a lot of things you can learn from a startup. Be open to suggestions and comments. And NETWORK!"
Want to see more from Harsana and the other Chicago Summer 2018 fellows? Check out their Instagram account, @sc.chicago_!
Also, check out this AMAZING video Harsana and her fellow intern, Hayley, produced for their internship.
Are you ready?