Written by Sage Corps Summer 2018 fellows, Tatum Pugh and Jacob Hubert.
Housing
"The Dublin cohort is proud to call Broadstone Hall on Phibsborough Road home for Summer 2018. We live in shared apartment spaces, most of us with our own rooms but sharing a kitchen and common area with three to five other Sage Corps friends. Our favorite part about our building is undoubtedly the rooftop terrace, which is the best place to gather and share beers and stories after a long day at work." - Tatum
"I have one direct roommate who has become an awesome friend and adventure buddy of mine, plus 4 other apartment-mates. When at home, I absolutely love spending my time on the roof terrace. Our building is tall enough where we can look over the surrounding buildings and every night I see a beautiful sunset behind the Dublin skyline. I usually find a new student from a different country almost every time I go up there. I have made friends with students from Spain, Turkey, Germany, France and obviously with the students in the program who are from all over America." - Jacob
Commuting
"My commute to work consists of a 25 minute walk on my best days, and about a 10 minute cab ride on the mornings I just need those extra few minutes of shut-eye. Walking to work always puts me in a great mood, though. The fresh air is the perfect way to start the day and is almost as effective as the cup of coffee I make as soon as I get to the office." - Tatum
"I love the walk to work - I pass a grocery store on the way and will often pick up fresh breakfast for the walk. My startup's workday begins at 10 so I usually leave around 9:30 with 2 or 3 other students and we talk about what our day looks like and what we did the night before. I find the walk peaceful despite the constant j walking and avoiding cars (still haven't adjusted to people driving on the opposite side of the road)." - Jacob
Working
"I have the pleasure of working in the Digital Hub building in central Dublin. This building is rich with history, as it used to serve as Guinness's primary storehouse from the late 1800s-2000, when the government purchased it to give to the NDRC (National Digital Resource Center). The NDRC is a startup incubator that invests in and helps grow countless new technology startups, most of which are housed in the old storehouse. There are 10 Sage Corps students working in the building this summer, which makes for great lunch dates and walks to and from work. We have all enjoyed exploring the surrounding neighborhoods whilst trying to find the best coffee and food spots. Our absolute favorite is the GEC Cafe, where you can customize salads and sandwiches for a super low price. The staff there knows most of our orders by heart and we have only been here for three weeks!" - Tatum
"I also work in the National Digital Research Center! Because so many Sage Corps fellows work here, I always see a familiar face and we often grab lunch together. On my team there are 8 of us (3 of the 8 being interns; 2 Sage Corps and 1 from Germany). There is a nearby Deli where I go almost everyday because of the sweet deals and good food. Almost everyone eating in there is from a startup as well so it's an awesome environment." - Jacob
Startup Life
"The startup that I am interning for is called Think Biosolution. They build privately labelled IoT devices using sensor technology and customized AI engines in order to help people monitor their health. It is one of many companies currently competing in the wearable technology marketplace. Its toughest competitors all utilize wearable fitness tracking devices that aim to promote and sustain healthy lifestyles of end users (what normal people call consumers). Many of these companies employ ECG (electrocardiogram)-based technology, which involves sensors that are directly embedded in the fabric of the product.
And now it's time for the product pitch, which I wrote for Think Bio during my first week in office:
That was fun, wasn't it?!
That's pretty much what I do here; I write business white pages about the company, the product and the market in order to convince sports apparel companies, product owners and apparel designers to invest in or enter a partnership with Think Bio. By the end of the summer I will (hopefully) have several articles published in various science journals and will undoubtedly be a freak expert in wearable technology." - Tatum
"My startup, Groopeze, has created a group booking software which makes it easier for groups (friends, corporate, university) to create a plan. The prices are completely transparent and the payment process is made much easier for the customers and suppliers (the activity providers). At Groopeze I serve as the Business Development Intern, I basically help out with all of the CEO's projects and there is another intern who works under the CTO. I help run the social media, do client/supplier relationship management (a lot of emails), market expansion research and I work with Google Analytics in order to see patterns and measure the performance of our marketing campaigns. As the "right hand man" to the CEO, Darragh, I am able to work on a lot of different projects and I'm able to dip my toes into all sorts of projects. Marketing, PR, stats and analytical skills are used everyday and although I'm not mastering a single skill this summer, I've found joy learning a variety of skills. I'm hardly bored because of this and when I do find myself in a stagnant place, I ask what else I can do and he always has some odd job or different aspect of the business I can work with." - Jacob
After Work
"My walk home from work is generally one of my favorite parts of the day. It is a perfect way to clear my head and get some exercise after sitting at a desk for most of the morning and afternoon. I usually pop into the supermarket that conveniently lies right on my path home to get some food to cook for dinner. I am a cooking fanatic and have really enjoyed cooking meals for my cohort friends. After dinner, most of us partake in our short evening naps before heading up to the rooftop terrace to drink some beers and listen to music." - Tatum
"After work, I enjoy grabbing a pint with the other fellows or my coworkers. I also enjoy going to coffee shops and reading or talking to the locals about anything from Irish vs American culture, to places to visit, to podcasts. I always end up hanging out on the roof by the time night falls - everyone knows to go up there when they're looking to relax and hang out with one another." - Jacob
Weekly Programming
"Sage Corps provides so many amazing networking opportunities, it's hard to pick one that has been better than the others! One of my favorites so far was a speaker and networking hour that we attended during our first full week here. We got to listen and learn from Niamh Given, Chief Growth Officer at Nest.vc, an innovation platform that is enabling start-ups to achieve extraordinary things through access to investment, partnerships and community engagement across Asia, the Middle East and Africa. It was so inspiring to listen to a female entrepreneur who has done so many incredible things within and outside of the startup community. Her Q&A was followed by all the pizza, beer and networking you could ever dream of.

Beyond the educational programming events, our cohort has been to a few dinners with our city managers. It has been fun to hang out with these young professionals in a casual setting and learn about what got them to where they are at in their lives." - Tatum
"I love interacting with my city managers. Stephen and Chris are super cool and relatable with some awesome jobs and enough work experience to give us advice and their two cents. I love picking their brain about anything from work life to Dublin culture to sports." - Jacob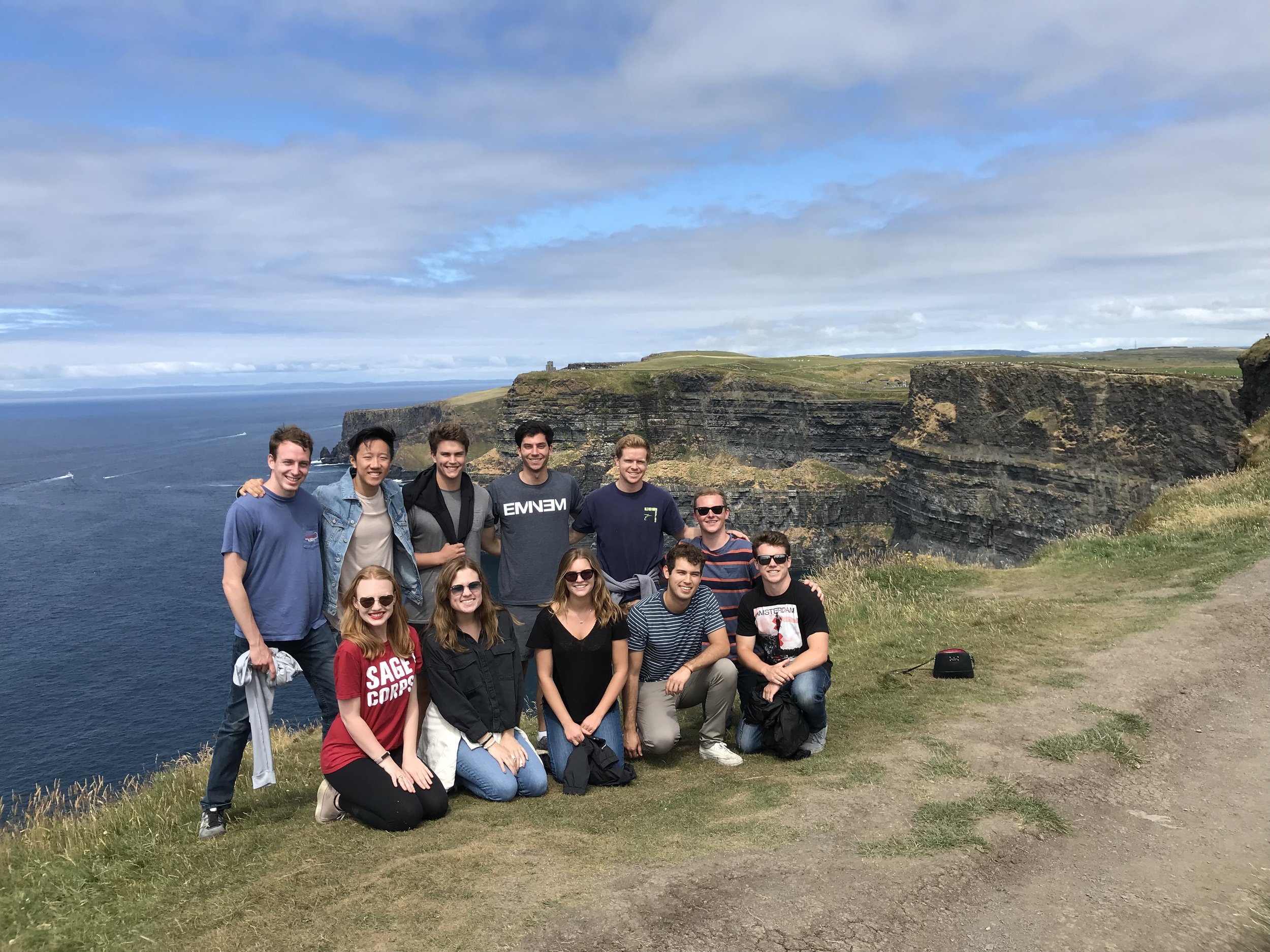 Weekends
"Beyond the internship, Sage Corps has provided me with a group of nineteen other students from around the U.S. that I get to enjoy this experience with. Together we have explored the city, discovered our favorite beers, and we've even planned weekend trips to Amsterdam and Scotland later this month. I couldn't have lucked out with a better cohort. Last weekend we spent three days and two nights in Galway (cue Ed Sheeran song). We rented an Airbnb for our group of 14 and spent the days exploring the colorful and culture-filled streets. A small group of us also traveled up to Northern Ireland to go on the Game of Thrones tour. We had way too much fun dressing up as Starks and playing with swords for a day." - Tatum
"I've made a few trips outside of Dublin, too, including Galway and the Game of Thrones tour up in Northern Ireland. So far I've been trying to experience everything Ireland but next week a group of us are going to Scotland, and then I'll be traveling to Italy with my roommate for 2 weeks after the conclusion of the program!" - Jacob
What surprised you?
"I guess I always expected to come out of this summer with a few close friends, but I never expected that literally our entire cohort would click so well. I am not prepared to say goodbye to a single person on this trip and I know it will be absolutely heartbreaking when I have to do so." - Tatum
"Especially in Dublin, since people speak English, there are a lot of similarities to the States so I didn't find the transition incredibly difficult, but everything is just slightly different. I've never lived outside of my area code, nor have I lived in a city, so experiencing something new has been fun and exciting. Because the transition wasn't super hard, it allowed me to appreciate what I have at home but also I'm able to enjoy this change in lifestyle." - Jacob
Advice
"My main piece of advice for future Sage Corps fellows would be to relish in every single opportunity that is presented to you. These few weeks have gone by SO fast and I know the final week will be here before I know it. I am inherently shy and timid, and initially this experience was really scary to me. But since I have been here I have quickly realized the true value of living outside of your comfort zone. Don't be afraid to take chances, whether it's at work, at a networking event, or a night with your friends!" - Tatum
"Say 'Yes' to everything! You never know who you're going to become friends with and what adventures you'll go on unless you say yes to doing things. Also, make friends with people who are different from your normal crowd. The fellows are from all over the United States and you never know what you could learn from them or what interests they may spark in you." - Jacob
Want to see more from the Summer 2018 Dublin fellows? Check out their Instagram account, @sc.dublin_!
Are you ready?